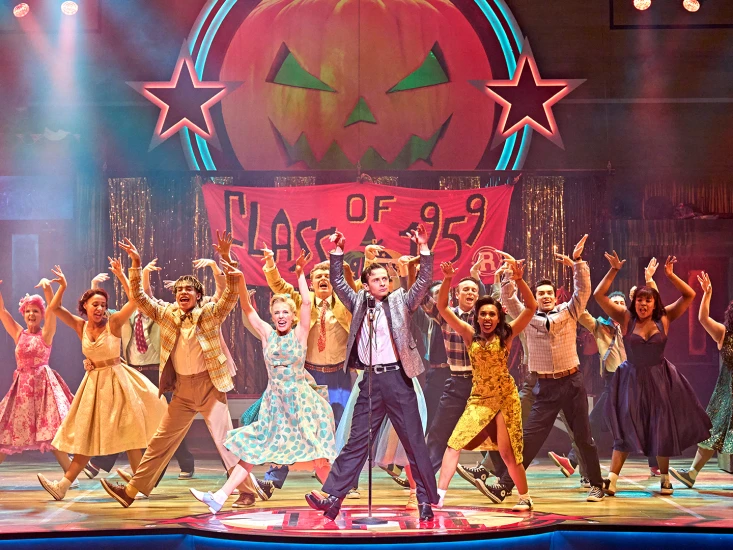 Grease The Musical London
«Grease» er en amerikansk musical, der er sat i 1950'erne og følger historien om to gymnasieelever, Danny og Sandy, der falder for hinanden over sommeren, men er tvunget til at adskille sig, når skoleåret starter igen.
Handlingen tager sin begyndelse, da Sandy og Danny møder hinanden på stranden og forelsker sig i hinanden. Men da de finder ud af, at de begge skal starte på samme skole, bliver det klart, at deres forhold vil blive svært på grund af de sociale normer og forventninger, der er til forskellige grupper af elever. Danny er en del af en cool bande af fyre, kaldet «T-Birds», mens Sandy er en uskyldig og sød pige.
Musicalen udforsker de udfordringer og forhindringer, som Danny og Sandy står overfor i deres forhold, mens de prøver at finde en måde at være sammen på på trods af deres forskellige baggrunde. «Grease» indeholder også mange velkendte sange, herunder «Summer Nights,» «You're the One That I Want,» og «Greased Lightnin'».
«Grease» havde premiere i 1971 på Broadway og blev en stor succes, både på scenen og i senere filmatiseringer. Musicalen har været genstand for mange produktioner og fortsætter med at være populær blandt publikum i dag.