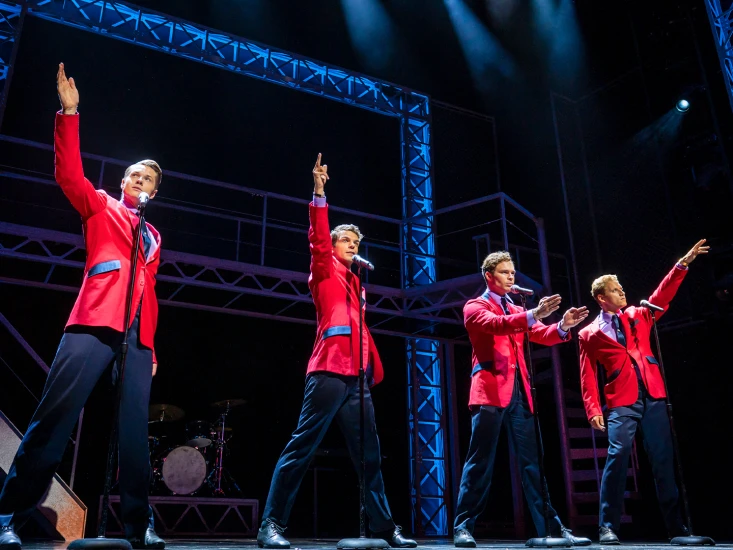 Jersey Boys musical London
«Jersey Boys» er en jukebox-musical, der følger den sande historie om Frankie Valli og The Four Seasons, en af de mest succesfulde popgrupper i 1960'erne.
Musicalen er opdelt i fire sæsoner og fortalt fra perspektivet af hver af de fire bandmedlemmer, Tommy DeVito, Bob Gaudio, Nick Massi og Frankie Valli. De fire bandmedlemmer kommer fra en arbejderklassebaggrund i New Jersey og begynder at optræde sammen i lokale klubber. Efterhånden som deres karriere tager fart, bliver de involveret i kriminalitet og står over for personlige og professionelle udfordringer.
«Jersey Boys» inkluderer mange af The Four Seasons' største hits, herunder «Sherry,» «Big Girls Don't Cry,» «Walk Like a Man,» og «December, 1963 (Oh, What a Night).» Musicalen udforsker også temaer som venskab, kærlighed, kriminalitet og succes i musikbranchen.
Uden at afsløre for meget af plottet, kan jeg sige, at «Jersey Boys» har en rørende og overraskende slutning, der vil efterlade publikum med meget at tænke over. Musicalen er blevet rost for sit skuespil, sang og dansepræstationer samt for sin autentiske og rørende skildring af The Four Seasons' liv og musik.