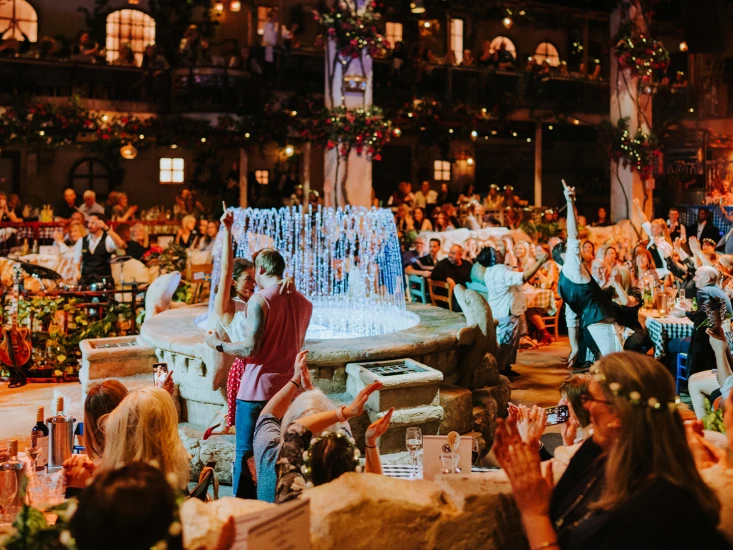 Mamma Mia! The Party musical London
«Mamma Mia! The Party» er en teaterproduktion, der er baseret på den populære musikal og film «Mamma Mia!» med ABBA's største hits. Musicalen har en unik form, da den foregår i en restaurant, der er omdannet til en græsk taverna, hvor publikum sidder og nyder mad og drikke, mens handlingen udfolder sig rundt omkring dem.
Musicalen tager publikum med på en rejse til den græske ø Skopelos, hvor de vil møde nogle af de elskede karakterer fra «Mamma Mia!»-historien, herunder Sophie, hendes mor Donna og hendes veninder Tanya og Rosie. Historien finder sted fire år efter begivenhederne i den oprindelige musikal og film, hvor Sophie og hendes mand Sky nu driver Donnas tidligere taverna og forbereder sig på at genåbne den med en stor fest.
Musicalen er fyldt med ABBA's største hits, herunder «Dancing Queen,» «Mamma Mia,» og «Take a Chance on Me,» og publikum opfordres til at danse og synge med. Derudover er der også nogle nye sange, der er blevet skrevet specielt til denne produktion.
«Mamma Mia! The Party» er kendt for sin livlige og interaktive atmosfære, hvor publikum vil føle, at de er en del af historien og festen. Der er også masser af humor, romance og drama, der udfolder sig omkring publikum, og produktionen vil efterlade dem med et smil på læben og en følelse af eufori.
Alt i alt er «Mamma Mia! The Party» en underholdende og unik teateroplevelse, der kombinerer ABBA's legendariske musik med en sjov og engagerende historie og en livlig atmosfære.